Brake Supply Company – A 25-year Southwest Indiana Chamber member
October 1, 2019 marked a 25-year anniversary for Brake Supply Company as an active member of the Southwest Indiana Chamber, Tri-State Manufacturers' Alliance and Family Business Alliance. We would like to thank Brake Supply for their valuable membership, participation and service to the Southwest Indiana region. Brake Supply is located at 5501 Foundation Blvd. in Evansville. They can be reached by calling (812) 467-1000. Follow them on Facebook.
From www.brake.com
ABOUT BRAKE SUPPLY
Brake Supply, based in Evansville, IN, was founded in 1947 as an automotive brake repair shop. Thirty-nine years later, in 1986, Brake Supply was acquired by Koch Enterprises, Inc. and expanded to become Brake Supply Heavy Equipment, Parts and Components.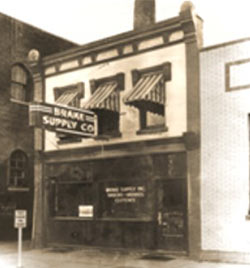 Over the past 30 years, Brake Supply has grown to be the leading expert in our industry. Specializing in heavy duty, off-road, powertrain components and hydraulic cylinders, we are committed to providing the best service and value to our customers. With eight locations across North America, and international representation in the United Kingdom, Australia, Indonesia and South America, we have the reach and expertise to keep your business up and running.
With five rebuild centers in the USA, Brake Supply Company operates in Evansville, IN where we are the largest rebuild center in the world, outside of the OEM. Our additional rebuild centers are located in Casper, WY, Beckley, WV, Princeton, WV, and Fort Worth, TX. Distribution centers operate in the cities listed above, as well as in Paducah, KY, Elko, NV, Edmonton, Alberta, Canada, Darra, Brisbane Australia, Perth, Australia, and Balikpapan, Indonesia.
OUR MISSION
Mission
"Repair and service our customer's equipment beyond their expectations."
Vision
Be known around the world as the "Best" and "Most Reliable" partner serving the surface & underground mining, industrial and marine markets.
Value Proposition
Since 1947 we have been committed to offering the highest level of customer service backed by our passion to provide OEM-quality or better reman components and new parts proven to deliver the lowest operating cost per hour.
Our customers will experience more up-time with our 24/7 delivery of core exchanges and our "reman & return" program.
Highly skilled technicians along with a dedicated sales team are working with our customer's maintenance, purchasing and scheduling departments at mine and industrial sites daily.